Reminiscent of Elizabeth Berg's
Eat, Pray, Love
and Molly Wizenberg's
A Homemade Life
, Elizabeth Bard's debut book,
Lunch in Paris
, is a memoir of love, food, and Paris. We meet Bard as a 25-year-old Londoner, a New Jersey Jew transplant who found herself living overseas working towards a Master's degree in Art History. Her first meeting with Gwendal, the man who becomes her husband, is at an academic conference which leads to lunch in Paris and then a long-distance courtship. Though the majority of
Lunch in Paris
documents the trajectory of Elizabeth and Gwendal's courtship, the memories that define their relationship are defined by the food they ate and the city in which it all took place.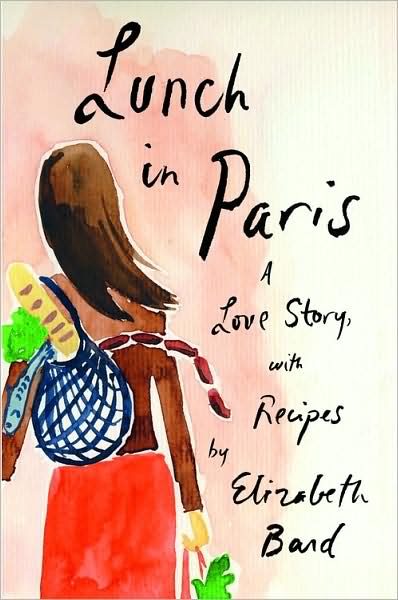 Elizabeth includes recipes throughout her book, from ages-old family meals to recreations of dishes devoured in France's best restaurants. She offers simple and quick comfort foods as well as more traditional, labor-intensive French fare. But in addition to food, which certainly plays a vital role in Bard's life, especially once she officially moves to Paris, the book is about intercultural relationships and offers a running commentary on the vast disparities between French and American mentalities. Elizabeth discovers that she holds onto a largely unrealistic and very American sense of optimism, while Gwendal is used to being told that he shouldn't pursue his dreams, that he needs to keep a firm grasp on reality. Pursuing a friendship in France is a timely endeavor that tries on one's patience. People rarely pick up friends outside the social circle they formed in school and are much less open in conversation with outsiders. The American meal is excessive, quick, and unbound by any sense of tradition, whereas the French dining experience is truly that - an experience. Foods and flavors are savored because only just enough, if not less than enough, is prepared for everyone. Meals can last hours while most Americans are too fast-paced to linger over a relaxing dinner for more than a single hour's time. Bard provides plenty of interesting observations that made me question my own value system. Certain American ideals have become so ingrained in my psyche, such as our value we place upon work and achieving some modicum of success, that it is hard for me to place myself within a French mindset and relax, linger, and let happiness be my guide. Nonetheless, there are plenty of things to admire in the French, and for me, their food culture is the most enviable of all.
And of course, it's also a story about love. There is the inexplicable and incomprehensible way that Gwendal, a man from an entirely separate culture and a drastically different set of life experiences, fully understands Elizabeth, often knows what she wants better than she knows herself. Bard also deals with those life-changing decisions that every relationship eventually requires contemplating. Moving in together, relocating to a new city and country, getting married - to an outsider, these are seemingly natural progressions in any healthy relationship, but within the confines of this couple, these are decisions that must be poured over, considered, and never decided upon in haste.
Lunch in Paris
offers both an intimate look at the specific romance between Elizabeth and Gwendal while also sharing in the universality of love, the common outline of experiences that all lovers go through by virtue of sharing their life together, though the specifics may vary.
All in all,
Lunch in Paris
is a delight to read. Full of the rush of new love, the delight of painstakingly prepared French cuisine, and the charm of Paris, Bard's first attempt is a lovely and delicious winner.