Decorating your home for the holidays does not have to do damage to the environment or your wallet. Using found items, small touches, and natural elements are some surefire ways to bring the holidays to your home without wrecking havoc.
Thrift stores are one of my favorite spots for holiday finds. A lot of these places keep holiday decor on their shelves year round and sell these items at an affordable price. It's also easy to find basics at the local thrift shop that a little bit of red spray paint or gold glitter can transform into a stunning holiday piece. Candleholders, pots, vases, teacups - these items may not look like much on a shelf at Goodwill but, with a little imagination and crafting, they can easily find their place among your favorite holiday decorations. Vintage Christmas items, such as tablerunners and placemats, are also wonderful finds that reduce production and add tons of character and charm to your home.
I love to use natural elements to decorate for the holidays. They're lovely to look at but also are renewable, affordable, and easy on the environment. Collecting pinecones from your own backyard is a simple start to plenty of decorating projects.
I like
Martha Stewart Whole Living's idea
of using sugar to decorate pinecones for a snowy look. Hang them on the tree, from the mantle, or by the window to make your home just a bit more festive.
The website also suggests using dried orange slices to spruce up your holiday decor.
This citrus project
is super simple and, once again, better for the environment, your wallet, and your decorating scheme than going to the store to buy pre-packaged, manufactured decorations.
Crunchy Domestic Goddess
suggests making your own Christmas tree ornaments. But instead of using your typical store-bought glass bulb ornament, try an old lightbulb. You can paint nearly anything your choose on these reused bulbs and give them second life season after season.
Another great idea from
Martha
. Collect fallen tree branches, gather them in a pretty vase or pot, and adorn them as you wish. This simple and affordable element makes a big statement and is really versatile. You could decorate the branches with Christmas wishes
as Martha suggests
or glittery ornaments, natural elements, homemade garland, paper snowflakes, or whatever else you can dream up.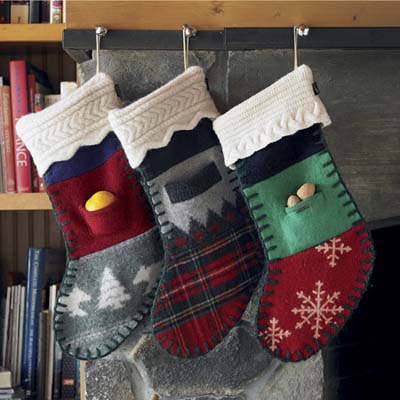 It's sweater season and there's no better way to reuse old holiday sweaters, flannels, and the like than by transforming them into festive stockings. If you aren't ready to part with any of your own holiday gear,
This Old House
recommends
these sweater stockings from VivaTera
.
I'm a huge fan of anything homemade to spice up the house around the holidays and
these tissue paper snowflakes
are a simple and fast project that can find uses all over the home and reuse a popular holiday item that most people have on hand. What more could you expect from a holiday project? Last year I used double-sided tape to hang these on the wall and strung them from the doorframe in my living room.
For more ideas, I always recommend checking out
A Greener Christmas by Sheherazade Goldsmith
. I
posted about this book last year
and am still using plenty of the ideas contained therein to decorate and gift this Christmas. It is quite easily one of the best holiday crafting books around, made even better by the fact that it centers around eco-friendly, homemade, and affordable projects.